VIC Pathway
Tanggal: Aug 03, 2020
Dibaca: 0 kali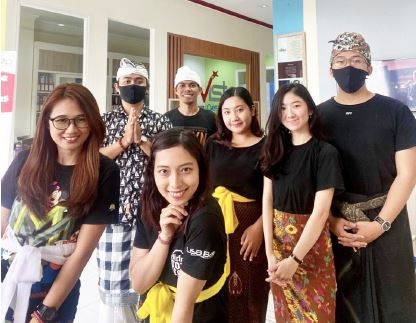 VIC Pathway Adalah program kuliah 2 tahun di Indonesia kemudian tranfer di luar negeri
START at Denpasar, Bali - Indonesia
Your Pathway Journey for Global Success!
VIC Global Pathway College is a part of Vista Education Corp., a company well trusted for its 22+ years of dedication in the education industry serving Indonesia's young generations to study overseas, and has become a one-stop global education solution for students from Indonesia.
VIC Global Pathway College is established to offer Indonesian students a high quality education from our worldwide leading partner universities and deliver International transfer pathways in Indonesia. We give more opportunities for
the students to take International pathways for Bachelor's degrees, with fast track, guaranteed transfer and affordable cost!
This coming September 2020, we proudly present to you the VIC Global Pathway College in the city of Denpasar Bali, the famous island of Indonesia, which has been growing not only in the tourism and hospitality but also in other business field. Our Bali campus looks forward to welcoming the first batch of students for NCUK (The Consortium of leading UK Universities) Business Program, with 100% NCUK Curriculum Standard, as well as NCUK teacher
qualification standard. This program prepares our students to reach their goals in transferring to Top UK and other Universities in the world
We also welcome those of you who are enrolled in NCUK programs outside Indonesia who are interested in studying and building your business network in Bali.
One of the many reasons that make Bali chosen to be the 1st list location to study in Indonesia is expressed in its nickname " the island of gods " , which speaks of a beautiful exotic paradise with a unique experience for the students
to explore. It is not only rich of its culture and heritage, but the people are also very welcome & hospitable. The nature that serves the beauty of it's landscape are stunning, and its big resources for education, pleasure, research and other fields have gradually become a big interest for business development, especially in the streams of hospitality and tourism. Bali is very affordable to live, and the opportunity to become a place to settle is widely open not only for students but also for those who are seeking for further career and entrepreneurship. The international ambience that has developed in Bali, has become the advantages to raise not only the hub for entrepreneurship, but also the soul to effectively create first-hand practices to many ideas for the future. Are you ready to join our Network in Bali ?
Engagement & Service
We aim to make sure that your NCUK learning experience at VIC Global Pathway College Bali function as a bridge to prepare you for a successful transition towards your chosen University, which includes helping you to adapt to International curriculum and teaching method, decide the right degree option, get good academic results, as well as finally obtain a great career opportunity.
Our student service team at VIC is dedicated to assist you and your parents in every step of learning and transfer process. You will receive a close, personal attention to cater each of your different needs.
Our Overseas Study student consultants will provide expert guidance for your transfer plan with NO additional cost. We will be with you from the enrollment process right down to acceptance, all the way until your save arrival at the university